Khaled Lake Dancing Fountain in Sharjah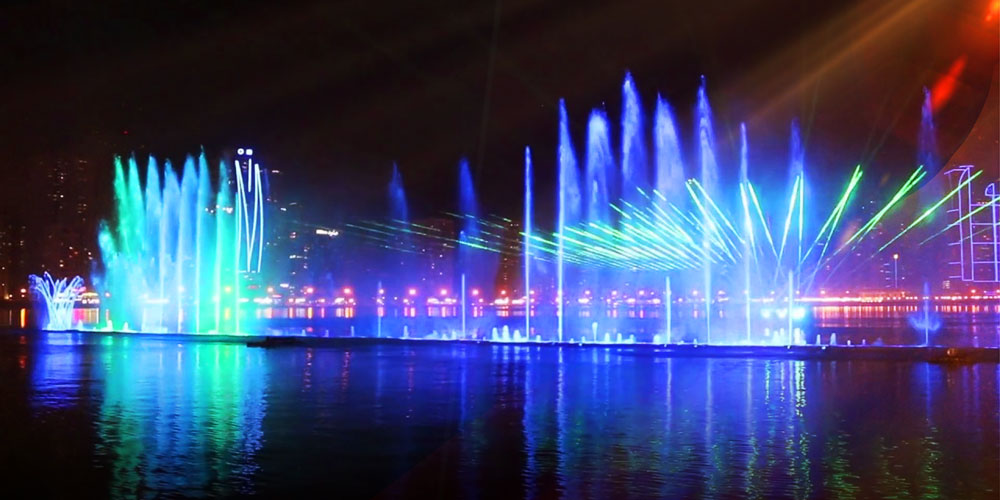 The Khalid Lake Fountain in Sharjah is the world's third longest dancing fountain, it is not the only tourist attraction in Sharjah, as Sharjah includes many other landmarks such as museums, beaches, and others. The fountain is 5 km long and meets Khan Lake in Al Qasba Water Canal, the UAE also includes the world's most famous and longest dancing fountain in Dubai.
To view the article on the Dubai Fountain Press here
The start dates of Khaled Lake Dancing Fountain shows
The shows in the fountain start at seven PM and are repeated every 30 minutes until twelve AM. Some of the most famous shows offered by the Sharjah Fountain are poetry shows, heart rate shows, children's shows, and the Ebro show, pictures of the most important and prominent cultural and political figures and other distinguished shows that attract attention are displayed, as the fountain works with sound and light, and laser beams work in a dazzling manner and distinctive colors.
The most important attractions that surround Khaled Lake Dancing Fountain
Khalid Lake Corniche is characterized by the picturesque landscapes and wide green spaces through which you can enjoy watching the sunset and sunrise in their most beautiful images. There are also places designated for walking, jogging and cycling so that visitors have a good time while watching the various dancing fountain shows.
Al-Noor Mosque is distinguished by its Ottoman-style construction, its minaret is about 55 meters high, the mosque can receive up to five thousand worshipers.
The most famous of the different shops provide visitors with all their needs while shopping, and the most important characteristic of the commercial centers in this area is their wonderful view of Khalid Lake.
Al Majaz is distinguished as one of the most famous and important tourist areas in Sharjah, as it hosts many parties and festivals that attract tourists from all over the world to watch the various celebrations and shows of the dancing fountain, it also provides various services to tourists such as restaurants, shops, and others.
There are many restaurants where you can sit and enjoy watching the various shows offered by the fountain, the most important of which are Al Fanar Restaurant, Zahr El Laymoun Restaurant, Zaroob Restaurant, and Levantine Restaurant.