Lakes in Egypt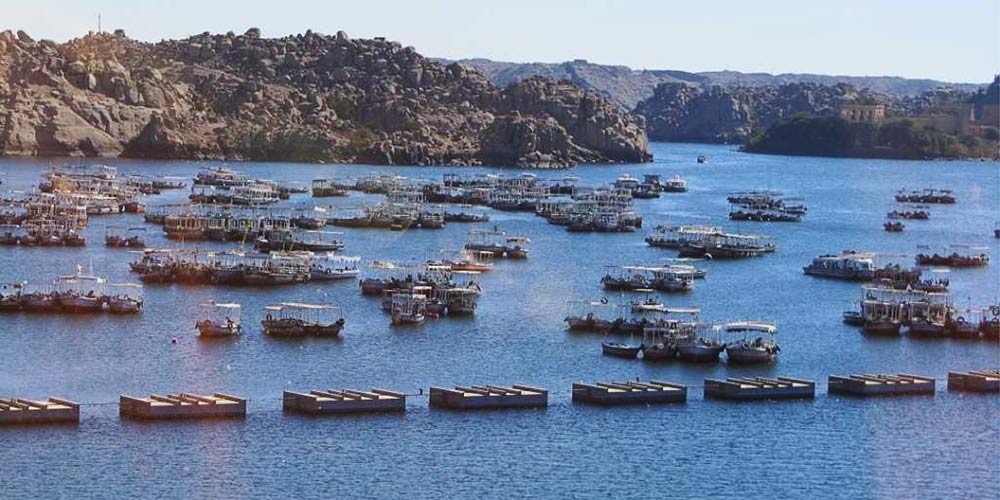 Lakes in Egypt vary between artificial, natural, salty and fresh lakes, up to eleven lakes and are considered one of the most important economic resources for the country as they are a fertile environment suitable for fish breeding in addition to producing salt.
Types of lakes in Egypt
Natural lakes: Burullus Lake, Lake Mariout, Bardi Lake, Arish Lake, Qarun Lake.
Industrial lakes: Al Manzalah Lake, Lake Nasser, El Khadrah Lake.
Freshwater lakes: Qarun lake, Nasser Lake, Toshka Lakes, El Rayan Lake, Ain al-Sira Lake, Ain al-Hayat Lake.
Salt lakes: Al-Marwa Lake, Great Jungle Lake, Manzala Lake, Mariout Lake, Bardawil Lake, Idku Lake, Great Bitter Lake, Burullus Lake, Siwa Lake, Fatnas Lake, El-Mufid lake, Al-Mamour Lake, Timsah Lake, Ghalioun Lake, Port Fuad Lake, Red spring lake.
Naser Lake
Nasser Lake is located in Aswan, the Upper Egypt region, it is Known by the name the High Dam Lake because it was formed from the High Dam water, a large part of it is in Egypt, it was named Lake Nasser after the late President Gamal Abdel Nasser. It is the second largest lake in Egypt and one of the largest artificial lakes in the world, with an area of 5,250 square kilometers, a length of 500 kilometers, and a storage capacity of 164 billion cubic meters, as it can contain a full flood for two years. One of the most important features that distinguishes it is the ability to practice the various recreational activities that tourists enjoy, such as boat trips to see the existing monuments such as Buhen Fortress and the Egyptian forts, and to see the temples in Aswan and fishing, among the most famous types of fish found therein are Nile perch. Nasser Lake contains more than one small island, it is one of the most important sources of drinking water, its water is also used in agriculture, and it is famous for the presence of a large number of crocodiles in it, so that the people of Aswan have become famous for keeping crocodiles as pets in their homes as an attractive element for tourists.
Manzala Lake
Manzala Lake is located in northern Egypt, overlooking four governorates: Port Said Governorate, Damietta Governorate, Sharkia Governorate, and Dakahlia Governorate, it covers an area of about 1360 square kilometers and it is connected to the Suez Canal through an inlet called the Communication Canal, and it is connected to the Mediterranean Sea through an inlet called Al-Jamil. It was previously a natural lake, then it was converted into an artificial lake that helps produce irrigation water and hydroelectric power and increase agricultural areas in the region. It is also one of the most important sources of fish production, as it has different types of fish, Manzala Lake is also a refuge for migratory birds during the winter and hosts a wide range of rare and dangerous species. It contains many small islands, which attracts tourists to go on cruises.
Al-Marwa Lake
Al-Marwa Lake is located in Faiyum, it is the largest salty lake in Egypt, and characterized by its dense waters.
Lake Mariout
Lake Mariout is located in the south of Alexandria Governorate in northern Egypt. It is one of the smallest lakes in the Delta region, with an area of 50 square kilometers. Lake Mariout is a refuge for migratory birds in the winter and is surrounded by many agricultural lands, as it is an important source for irrigation of the surrounding agricultural lands.
Qarun Lake
Qarun Lake is located in Faiyum, south of Egypt, in the Oasis Desert. It is a source of groundwater as it is one of the largest and oldest freshwater lakes in the world and is famous for its natural beauty. It covers an area of 330 square kilometers, and its depth reaches 14 meters. It is one of the most important tourist places where duck hunting can be practiced, and is considered a resting place for migratory birds, the most important of which are flamingos. Qarun Lake was declared a natural reserve in 1989, as it contains many rare plants and different fish. There are also some statues of fossils formed from river and marine sediments, the most important of which are rhinos, elephants, dolphins, hippos and sharks.
Burullus Lake
Burullus Lake is located between the Mediterranean Sea and the Burullus inlet on the northern coast of Egypt. It is the second largest natural lake, with an area of 460 square kilometers. Burullus Lake is famous for its abundance of fish, as it is one of the most important sources of fish in Egypt, it contains many fish farms and many people in the surrounding villages work in fishing and boat building. It includes an island that has gained fame recently, so tourists began to visit it, in addition to enjoying sitting or strolling on the lake corniche, you can also enjoy riding a boat and watching the scenic landscapes, sunsets and sunrises.
Bardawil Lake
Bardawil Lake is located in Arish, northeastern Egypt, on the northern coast of the Gulf of Aqaba, it covers an area of 130 square kilometers. It is one of the most important sources of fish wealth, as its fish production reaches about 2,500 tons of different fish during the year. Bardawil Lake is considered a refuge for birds, as there are different types of birds such as swallows, swans, ducks, cattle egret, kites, curlews, typical bee-eaters, hoopoes, crows, falcons, quails, and other birds of 250 different species. In the eastern part of it, there is the Zaranik Reserve, which is one of the most important areas that migratory birds flock to from all over the world.