Dubai Marina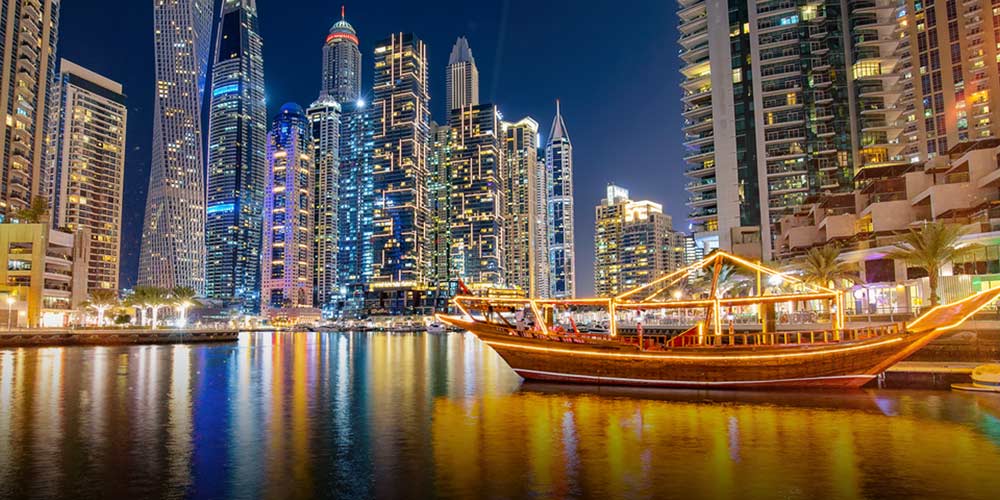 Dubai Marina is one of the most important attractions in Dubai, as it has residential towers, places for entertainment, and services such as restaurants, cafes, and shops, which made it one of the most important areas there.
The most famous towers in Dubai Marina
There are many residential towers in Dubai Marina, including the tallest ones, the most famous of which are the Princess Tower, which is 414 meters long, the Marina Tower, Elite Residence, the Marina Torch, Ocean Heights, the Cayan Tower, and 21st Century Tower.
Dubai Marina location and its most important features
Dubai Marina is located in the center of Dubai, very close to Sheikh Zayed Road on the coast of the Arabian Gulf, with a length of three and a half kilometers. It is considered one of the most prestigious areas, as it has:
Many residential towers designed to the highest quality and with the latest designs, up to 200 residential towers.
It has Cayan Tower, the world's tallest residential tower, which is distinctively designed in the form of curves from the sides.
It includes different villas and chalets suitable for many families, and apartments overlooking the sea coast.
Many events and celebrations are held throughout the year, which makes it a place frequented by many visitors.
It has shops and distinctive restaurants located in the large commercial center in Dubai Marina.
A suitable place for various activities such as fishing, swimming and other various water sports.
The most famous hotels in Dubai Marina
There are distinctive hotels in Dubai Marina for accommodation, such as Le Royal Méridien Beach Resort and Spa, La Verda Suites and Villas Dubai Marina, Grosvenor House, Intercontinental Hotel, Dusit Princess Residences Dubai Marina, and Address Dubai Mall Hotel.
The most important services provided by Dubai Marina
Dubai Marina provides all services to its residents, including government institutions such as the post office, clinics, hospitals, commercial centers, banks, mosques, churches, universities, schools, nurseries, the most famous shops, cafes, restaurants and beaches.
The most important tourist places in Dubai Marina
Dubai Marina includes many places that you can enjoy, the most important of which are:
Dubai Marina Walk: It is one of the most important tourist places, which includes shops, restaurants, and area for kids, walking, and cycling.
A cruise for sea lovers to enjoy sightseeing, sunset and fishing trips
Dubai Marina Mall: It has a cinema to watch the latest movies, amusement parks, children's games, and shops. You can buy everything you need, including clothes, cosmetics, home furnishings, and electronic devices.
Mohammed bin Ahmed Al Mulla Mosque: It is one of the most beautiful mosques in Dubai, and is distinguished by holding introductory tours to learn about the Islamic religion and Arab culture.
Dubai Marina Yacht Club: where you can enjoy breakfast, rent a yacht and have a good time.
The most famous restaurants in Dubai Marina
Some of the most famous restaurants in Dubai Marina are Tony Roma's, Nando's, and Café Bateel.