Underwater hotels in Dubai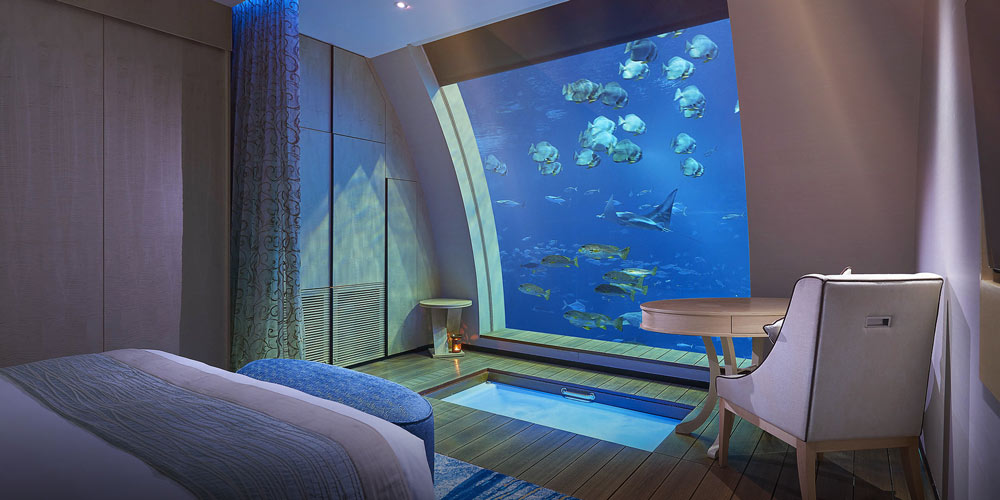 Underwater hotels in Dubai arouse the curiosity of citizens and tourists for a unique and exceptional experience inside Dubai, which continues to dazzle the world with its uniqueness and breaking more records to maintain its position among the countries of the world, in addition to its inclusion of Burj Al Arab Hotel, which is a seven-star hotel, hence, the UAE is the first country in the world in every remarkable thing.
The most famous underwater hotels in Dubai
Atlantis, The Palm is one of the most famous underwater hotels in Dubai and the world, as it has two underwater suites through which you can watch fish of different species around while lying down in a picturesque scene. The hotel also provides a lot of entertainment and amenities, as it includes a private beach, Aquaventure Park, a full commercial complex, an aquarium containing more than 65,000 species of fish, and various restaurants, including underwater restaurants.
The floating villas in Dubai: you will open your eyes on a whole different world when you visit the floating villas in Dubai, which is an amazing place, stunning landscapes and a high degree of privacy where you can own your own unit and enjoy the fairy atmosphere where fish and coral reefs surround you in your bedroom, each villa contains one or two rooms according to your choice, in addition to a private bathroom directly overlooking the sea and a jacuzzi, from the upper floor, you can watch the sunset and sunrise, and enjoy watching the fish around you. Some villas overlook Burj Khalifa, and you can reach your villa through the yachts located in the port of the villas, each villa is far from the other to provide privacy for the individuals who live therein, the prices of the villas vary according to the capabilities, and in the future you will be surrounded by different islands with floating villas.
Hotel Reservation Link (Press here)
Underwater hotels in Dubai under construction
The Hydropolis Hotel, and the Water Discus underwater hotel, as Dubai is currently seeking to establish the two hotels to include the largest number of underwater hotels, and to be the only country that has the most beautiful and largest hotels in the underwater world, as these hotels are planned to be a boom in the fiels of tourism in Dubai, this two hotels will differ in composition and construction from most of the hotels in the world, these are projects that will require large sums of money to establish them with high quality, therefore Dubai will seek to provide all means of comfort and entertainment to complete the construction of these hotels and announce them officially in the near future.
To view the article of Seven Star Hotels in Dubai (Press here)