World's most famous Egyptian actors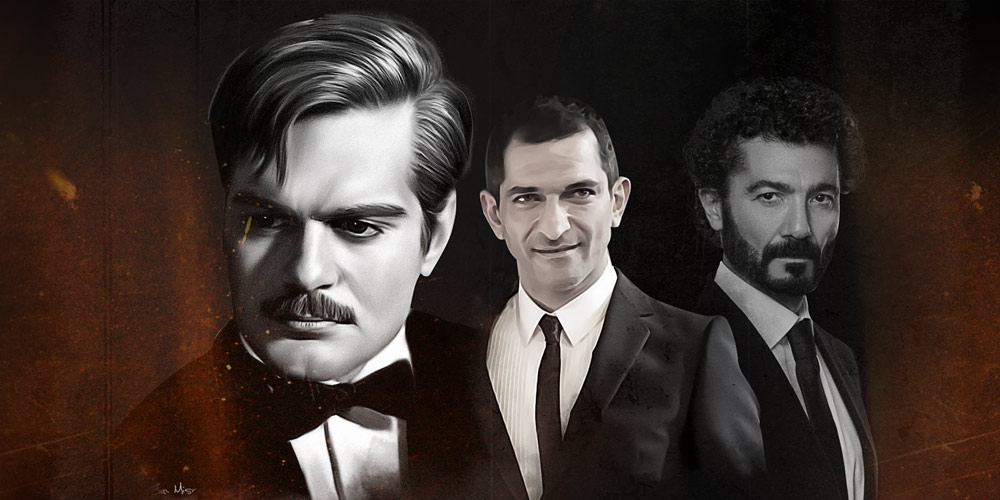 There are world-famous Egyptian actors who performed international roles engraved in the memory of drama and cinema fans, some of them were born and lived in Egypt and participated in works from local cinema until they became world-famous, like the late Omar Sharif, and others were born outside Egypt, such as Amir Al-Masry, Rami Malek and others.
Omar Sharif
Omar Sharif was born in Alexandria on April 10, 1932, his name was "Michel Dimitri Shalhoub", he declared his conversion to Islam and called himself "Omar Sharif." His father was Lebanese, settled and lived in Egypt, and worked in the wood trade, he believed that his son would follow the same path, but Omar Sharif went beyond his expectations, as he admired cinema and theater from a young age, he started his career in the Victoria College theater, and was a colleague of the director Youssef Chahine. He performed his first starring role in front of the actress Faten Hamama, in "The Blazing Sun", which was a great success, and brought him later many offers to shoot films with Faten Hamama, the most important of which are (Our Beautiful Days, Struggle in the Pier, Sleepless, Lady of the Palace, The River of Love, Ard al-Salam, Struggle on the Nile, A Rumor of Love, There is a Man in our House).
Omar Sharif did not just co-starred with Faten Hamama in movies, he fell in love with her and in order to marry her, he changed his religion from Christianity to Islam, but their marriage did not last to the end, they got married in 1955 and had an only child, "Tariq Omar Sharif", then got a divorce in 1974. He said in several interviews that he could not marry another because he could not love anyone like her.
Omar Sharif's journey to become worldwide famous was when he met the director "David Lean", who saw that Omar Sharif could perform international roles, this was not difficult for him as he spoke different languages, including English, Spanish, Greek, Portuguese, French and Italian, he performed his first role, "Lawrence of Arabia", which was a great success, and enabled him to play many different roles, most notably (Doctor Zhivago, The Yellow Rolls-Royce, Green Ice), he distinguished himself in these works by presenting the quiet, attractive and mysterious character.
He won the Golden Globe Award for his role in Doctor Zhivago as the best actor in a drama movie, and his son Tariq participated in this movie when he was 8 years old, he also won it again as the best supporting actor for his role in Lawrence of Arabia, and won it in partnership with Peter O'Toole, Terence Stamp and keir dullea, he won the award of famous artists of the Arab world and the César Awards as the best actor for his role in Monsieur Ibrahim by Francois Debrun, among the most important nominations is that he was nominated for the best supporting actor Award for his role in Lawrence of Arabia, but he did not win it, he won the Golden Lion Award for his entire work.
Tariq Omar Al Sharif announced that his father, Omar Al-Sharif, had Alzheimer's disease, and passed away on July 10, 2015 of a severe heart attack at the age of 83.
Khaled El Nabawy
Khaled El Nabawy was born in Mansoura on September 12, 1966, he studied at the Higher Institute of Dramatic Arts, and began acting in the cast of the Higher Institute for Agricultural Cooperation, his first starring role was in the Citizen, then he played the starring role in the Immigrant, directed by Youssef Chahine, for which he won the best actor award in the Johannesburg Festival, and he participated in the movie Kingdom of Heaven, where he played the role of one of the leaders of Salah al-Din al-Ayyubi's army, directed by Ridley Scott, then he played the starring role in the movie the Citizen, his proficiency in English helped him in his career, Khaled El Nabawy still performs many creative works that make him one of the most famous Egyptian artists inside and outside Egypt.
Amr Waked
Amr Waked was born in Ash Sharqia Governorate on August 7, 1970, he joined the theater team at the university and directed his colleagues' graduation projects, including (Carmen, Hamza and Fatima's Goblins, Audi Bass), he also participated in several Egyptian films, and became internationally famous, as he starred Syriana with the participation of international star George Clooney, and acted in the American-British series House of Saddam and the Italian film The Father And The Foreigner, he also played the role of an officer with the international star Scarlett Johansson in Lucy, he was helped in this by speaking many languages, including English and French, Amr Waked still performs many roles, as he is one of the most famous Arab actors in world cinema.
Rami Malek
Rami Malek was born in Los Angeles on May 12, 1981, and grew up in Los Angeles among an Egyptian immigrant family. He began studying art and presented many distinguished films, he is best known for his role in Mr. Robot series, which achieved great success, he also played a distinguished role in "A Night at the Museum" and "Twilight." He won a Golden Globe award for his role in Mr. Robot, he still performs many international roles, his Arab features helped him appear in different and distinguished roles.
You can also read more about: