Sharjah Gold Souk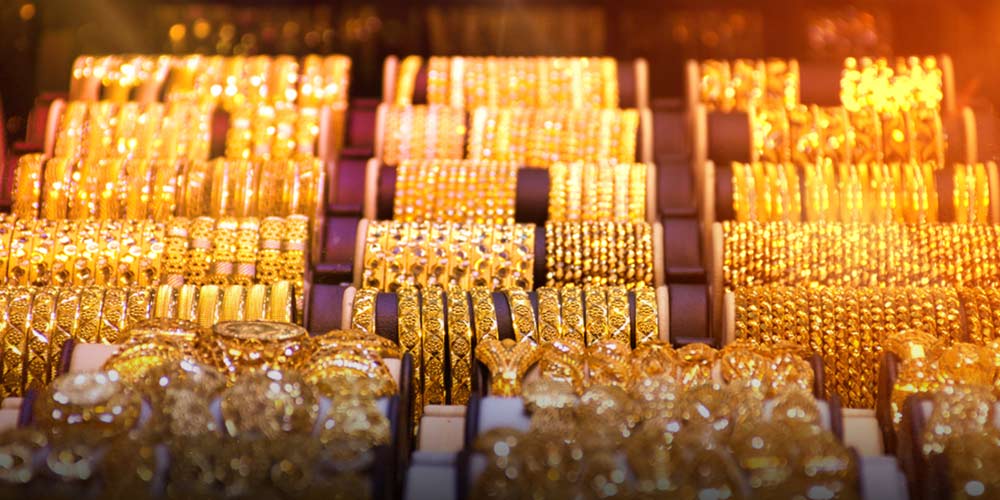 For thousands of years, women have always been interested in acquiring gold, and men have been interested in gifting it to them on various occasions such as engagement and marriage. Therefore, if you want to acquire distinguished gold with remarkable designs, you must visit the gold Souk in Sharjah, Dubai, which is world-renowned.
Location and working hours of Sharjah Gold Souk  
Sharjah Gold Souk is located in the Yarmouk area and is open throughout the week from nine AM until eleven PM, except for Friday from four thirty in PM until eleven PM, you can contact Sharjah Gold Souk through (065678222), to find out and inquire about what you want if you are looking for a shop or if you have an inquiry about the different buying and selling methods.
The most important characteristic of Sharjah Gold Souk
The market is adorned with Islamic character and decorations and is divided into two sections, "right" for various gold shops, and "left" for some gold shops, clothes shops, and various supplies shops.
There are many different shops that include different designs to find everything you want, as it is considered an attraction that tourists from all over the world are keen to visit.
The place is always crowded and there are a lot of people who want to buy and sell gold, so you have to take care of your belongings.
The shops are located close to each other, so you have various options to choose from.
There are different types and designs of gold, such as white gold, and 24 karat, 21 karat, and 18 karat yellow gold, you can choose what suits you at the right price.
You can invest in gold, as the price of gold is constantly increasing, many people believe that keeping money in the form of gold is a successful investment.
You must stay updated with the price of gold in the global markets when buying, but you can haggle with the seller to get the lowest price in the additional cost, as its price varies from one store to another.
The most famous and important shops in Sharjah Gold Souk
There are many gold shops, and there is great competition among them, as each merchant seeks to provide the best and finest types of gold at reasonable prices, the most famous of these shops are:
Jawhara Jewellery: It is one of the most famous shops in the gold market, and makes distinctive pieces by many professionals and experts, so it has a group of different and distinctive jewelry.
Liali Jewellery: One of the most important stores that are interested in manufacturing gold and diamonds in different shapes and sizes, it includes unique and rare pieces, it is one of the oldest and most famous stores that have different branches in many regions.
Malabar Gold & Diamonds: It is one of the most famous stores that sell jewelry attached to precious stones, it also includes rare pieces, you can choose any design you want and have it specially made for you.
Pure Gold: One of the most famous stores that have different branches in more than one country and provides you with many different designs of jewelry.
Atlas Jewellery: One of the most different stores that have a variety of pieces that make you confused about which piece to buy.
Bhima Jewellers: The gold market is characterized by the fact that it has many shops, one of the oldest of which is Bhima Jewellers, where different visitors come to, as it is one of the oldest shops in Sharjah Gold Souk.
Al-Romaizan Jewelry: It is one of the distinguished stores that have diamond-encrusted pieces in different designs and types. You can choose from all these pieces whatever you want at competitive prices.